ACFL Week 7 Schedule
(Friday June 19, 2020)
| | |
| --- | --- |
| Tuesday, 23 June 2020 | Tuesday, 23 June 2020 |
| @ | @ |
| Thursday, 25 June 2020 | Thursday, 25 June 2020 |
| @ | @ |
To see the standings and current schedule, go to http://www.dsl-mud.org/capture_the_flag.asp.

Ganth Goliath win the Champions Shield
(Sunday May 3, 2020)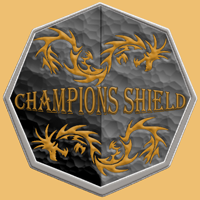 - 3


- 0

For teams who win it, its a telling start to the season and an important trophy. To the teams who lose it, its just a tune-up scrimmage that doesn't count towards the season. Regardless, its a decent piece of equipment for use until the next Champions Shield. For one lucky fan, its a good pay day! Theudoric won the 210 egg drawing.
The Magma 3 Cup Champions Ganth Goliath defeated the Season 7 Champions Karecus Card Sharks 3-0 to open up the season and win the shield.
The ACFL Season begins Tuesday.