Knighthood
( active members)
Click Here to View Clan Roster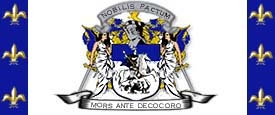 Current Leader: Kiery
Current Wars: | Bloodlust | Talon | Conclave | Chaos | Shadow |
Watcher: Cahlizna
Voucher(s): 17
Super Voucher(s): 3

War Statistics:
Justice: 1 kills, 2 deaths
Wargar: 4 kills, 1 deaths
Shalonesti: 19 kills, 19 deaths
Bloodlust: 1553 kills, 2084 deaths
Slayers: 751 kills, 390 deaths
Conclave: 45 kills, 47 deaths
Shadow: 1331 kills, 1124 deaths
The Knight is sworn to valor
His heart knows only virtue
His blade defends the helpless
His might upholds the weak
His words speak only truth
His wrath undoes the wicked
The Order of the Crown
Of the three knightly orders, the Knights of the Crown are respected by all, enemies and allies alike. Their nobility and chivalry are renowned throughout the land. One may only become a Knight of the Crown after entering the ranks of the other two orders first or have bloodlines from that of a previous Knight.

The Order of the Shield
The Knights of the Shield are the intelligence of the Knighthood. The use the spying techniques of the ranger, and the magic of the mage. Also, clerics belong in this order, fighting opponents and healing other Knights in their journeys.

The Order of the Lance
The Knights of the Lance are the strongarm of the Knighthood. These are they Knights that are known for their ability and willingness to fight for the cause of good. When military ability is needed, it's the Lance Knights that you will probably see first.