The Algoron Capture the Flag League presents...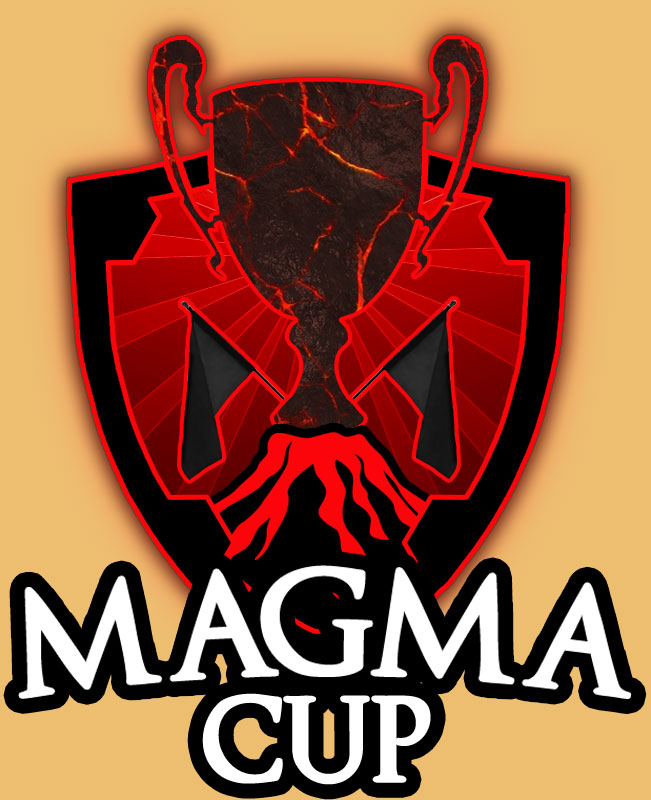 The 3rd Annual Magma Cup
3rd Annual Magma Cup Tournament Champions



Ganth Goliath
Standings
| | | | | | | | |
| --- | --- | --- | --- | --- | --- | --- | --- |
| Team | Wins | Losses | Winning % | PF | PA | +/- | Games Behind |
| Karecus Card Sharks | 5 | 0 | 100% | 15 | 0 | +15 | - |
| Crossroads Acquaintances | 4 | 1 | 75% | 12 | 3 | +9 | 1 |
| Ganth Goliath | 3 | 2 | 60% | 9 | 6 | +3 | 2 |
| Bloodland Hellhounds | 2 | 3 | 40% | 4 | 12 | -8 | 3 |
| Team Chimera | 1 | 4 | 20% | 3 | 12 | -9 | 4 |
| New Thalos Hydra | 0 | 5 | 0% | 3 | 13 | -10 | 5 |
---
1st Annual Magma Cup Tournament Champions



Althainia Brute Squad
2nd Annual Magma Cup Tournament Champions



Karecus Card Sharks
3rd Annual Magma Cup Tournament Champions



Ganth Goliath
WHAT?:
This is an ACFL (Algoron Capture the Flag League) Annual Tournament for the coveted Magma Cup!

WAIT. WHAT?:
It's a magical Trophy Cup made out of molten glowing magma that magically doesn't seem to burn your hands or mouth! It's great at parties!

WHEN?:
March 9 - March 27th 2020

WHERE?:
'Taidra Memorial Stadium' that is being constructed on Volcano Island.

(A portal will be provided from the Gaming Palace during competitions)

HOW?:
Every ACFL Team can enter their team based on their last seasons roster. But also, anyone else can form a team to enter the tournament as well. Current teams may even elect to LOAN a player to another team for the entirety of the tournament. The tournament draw will be 100% random for each round. If a team loses, they are out. We will continue until one team is left and declared the Magma Cup Winner. To create an amateur team, you need at least 4 players but can have as many as 8 on your roster. If you are short a player for a team, speak to the ACFL owners to see if you can purchase or borrow one of their players for your team.

WHY?:
This gives us an annual ACFL event between seasons to not only gain interest in the Algoron Capture the Flag League, but to also allow amateur teams to compete for the prizes and share in the fun. This is an ANNUAL EVENT, so get in the history books on winning the first Magma Cup in history.

PRIZES?:
If you enter a team and a full team shows up for all of your tournament matches (at least 4), you will automatically receive a team prize of 100 eggs. (divide however you like) For each win afterwards, the team will receive an additional 100 eggs. The semi-finalist will receive an extra 500 eggs bonus and the Winning Team will receive the final prize of 1000 eggs AND the Magma Cup Trophy until the next tournament. All members of the winning team will receive a Magma Cup Medal for permanent ownership.

A room object Cup will be given for permanent decoration, but the HELD cup will have special stats and will change ownership when the next champion is declared. The Medals are NECK work items with special stats.

RULES?:
- Same Rules as the ACFL matches with the following exceptions:
OF COURSE this is an IN CHARACTER EVENT. DUH!

Players that have an alt on a previous seasons ACFL team MAY NOT enter on a different team with an alt. They are still contracted to their teams. However, an owner may LOAN a player to a different team for the entire duration of this tournament. (For free, or a fee or whatever they decide to do based on their role-play) ACFL players CAN BE released to play an alt into this tournament by the owner.

Loaned players will play for the new team for the ENTIRETY of the tournament and may not be recalled.

No team shall home field advantage perks. Every game is at a neutral site.

New teams must have fully registered by MARCH 6th at midnight. There is no fee, but the teams ARE final and the flag and team names must be submitted.

Drawings for the match schedule are done.

Existing ACFL Teams who have a shortage of players and can not secure a LOAN from another team MAY apply to the league to accept a fill in player. The fill in player WILL be assigned from players wishing to play but do not have teams.

Tournament Byes will be given randomly (dice roll by Scorn) and only one bye per team will be allowed per tournament.
NEW TEAMS?:
Gather 4-8 dedicated characters and then come up with a team name and a flag design for your team. (275w x 115h) Designate a team owner. Choose carefully, that is who the money will be going to. (and probably the cup)

NEED A TEAM?:
Submit your name as teamless but looking in the sign up periods and we will do our best to place you on a team or to possible even form a team for you. But you have to live with the flag and team name we make you use! (Go Team Sheep! Baaaaaaa)

Sign Ups are until March 6th.
To sign up, leave scorn a Quest Note (qn) with your team name and members. Also get your flag ready.
---
Teams will use their ACFL rosters with only the exceptions used:



ROSTER EXCEPTIONS

ACFL owners may USE themselves for the tournament.
New Thalos Hydra:
Karecus Card Sharks:
Bloodland Hellhounds: Using Maccus
Ganth Goliath:
Team Chimera
Owner: Zarina
Members:
Fynix, Ariel Bandit
Zarina, Felar Monk
Sierus, Half-Elf Skald
Zhin, Half-Ogre Samurai
Virip, Tinker Gnome Enchanter
Meki, Wemic Shaman
Vsevolod, Orc Ninja
Nivo, Human Swashbuckler
Crossroads Acquaintances
Owner: Zqazx
Members:
Zqazx - Mul Brewmaster
Mruz - Ogre Crusader
Vykoth - Yinn Assassin
Scrlez - Troll Barbarian
Jhoun - Hill-dwarf Skald
Ilamot - Goblin Warlock
Kelxep - Hill-dwarf Priest
K'anata - Dark-dwarf Shukenja

SCHEDULE (all games begin at 8:30pm CST)

Monday 3/9/2020

Karecus Card Sharks defeated Team Chimera 3-0

Tuesday 3/10/2020

Bloodland Hellhounds defeated New Thalos Hydra 1-3 (DQ)

Thursday 3/12/2020

Ganth Goliath defeated New Thalos Hydra 3-0


Crossroads Acquaintances defeated Team Chimera 3-0

Friday 3/13/2020

Crossroads Acquaintances defeated Ganth Goliath 3-0


Bloodland Hellhounds defeated Team Chimera 3-0

Monday 3/16/2020

Ganth Goliath defeated Team Chimera 3-0

Wednesday 3/18/2020

Karecus Card Sharks defeated Crossroads Acquaintances 3-0

Thursday 3/19/2020

Karecus Card Sharks defeated Bloodland Hellhounds 3-0


Crossroads Acquaintances defeated New Thalos Hydra 3-0

Friday 3/20/2020

Crossroads Acquaintances defeated Bloodland Hellhounds 3-0

Monday 3/23/2020

Team Chimera defeated New Thalos Hydra 3-0


Karecus Card Sharks defeated Ganth Goliath 3-0

Tuesday 3/24/2020

Karecus Card Sharks defeated New Thalos Hydra 3-0


Ganth Goliath defeated Bloodland Hellhounds 3-0

Thursday 3/26/2020
SEMI-FINALS
#1

Karecus Card Sharks defeated #4 Bloodland Hellhounds 3-0

#3

Ganth Goliath defeated #2 Crossroads Acquaintances 3-1

Friday 3/27/2020
FINALS