The Algoron Capture the Flag League
(ACFL)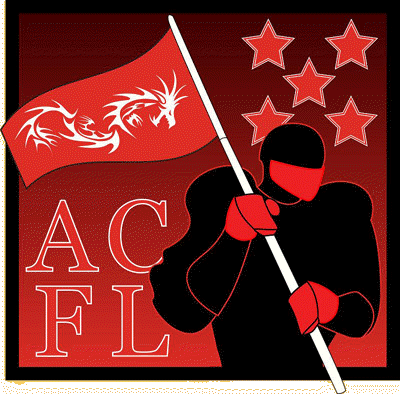 SEASON THREE
| | | | | | | | |
| --- | --- | --- | --- | --- | --- | --- | --- |
| Team | Wins | Losses | Winning % | PF | PA | Games Behind | Streak |
| *Arkane Stars | 19 | 1 | 95% | 59 | 12 | - | W4 |
| *Althainia Brute Squad | 14 | 6 | 70% | 48 | 25 | 5 | L1 |
| *Highland Gallowglass | 12 | 8 | 60% | 44 | 30 | 7 | W1 |
| Karecus Card Sharks | 7 | 13 | 35% | 29 | 43 | 12 | L6 |
| Shalonesti Quicksilver | 7 | 13 | 35% | 26 | 44 | 12 | W2 |
| New Thalos Hydra | 1 | 19 | 5% | 6 | 57 | 18 | L13 |
PF - Points For, PA = Points Against, GB = Games Behind First Place
* - IN Playoffs
Playoffs
Semi-Finals

Highland Gallowglass defeated Althainia Brute Squad

(3-0)

Highland Gallowglass defeated Althainia Brute Squad

(3-2)
Finals

Arkane Stars defeated Highland Gallowglass

(3-0)



Arkane Stars defeated Highland Gallowglass

(3-0)



Arkane Stars defeated Highland Gallowglass

(3-0)
Season 3 Champions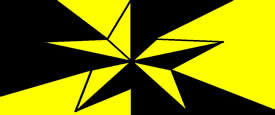 Arkane Stars
---
Schedule
(All Matches begin at 8:30 central/game time with the 2nd match to immediately follow)
#
Home
Away
Location

Tuesday, 03 May 2011

1
Brute Squad - 0

Stars - 3

Brute Squad
2

Card Sharks - 3

Hydra - 0
Card Sharks

Wednesday, 04 May 2011

3
Gallowglass - 2

Quicksilver - 3

Gallowglass
4

Stars - 3

Card Sharks - 0
Stars

Thursday, 05 May 2011

5
Quicksilver - 2

Brute Squad

- 3

Quicksilver
6
Hydra - 0

Gallowglass

- 3

Hydra

Tuesday, 10 May 2011

7

Gallowglass - 3

Card Sharks - 0
Gallowglass
8

Stars - 3

Quicksilver - 0
Stars

Wednesday, 11 May 2011

9

Brute Squad - 3

Hydra - 0
Brute Squad
10
Gallowglass - 0

Stars

- 3

Gallowglass

Thursday, 12 May 2011

11
Hydra - 0

Quicksilver

- 3

Hydra
12

Card Sharks - 3

Brute Squad - 0
Card Sharks

Tuesday, 17 May 2011

13
Quicksilver - 0

Card Sharks

- 3

Quicksilver
14

Brute Squad - 3

Gallowglass - 2
Brute Squad

Wednesday, 18 May 2011

15

Stars - 3

Hydra - 2
Stars
16
Quicksilver - 2

Gallowglass - 3

Quicksilver

Thursday, 19 May 2011

17

Stars - 3

Brute Squad - 2
Stars
18

Hydra - 3

Card Sharks - 0
Hydra

Tuesday, 24 May 2011

19
Card Sharks - 2

Stars

- 3

Card Sharks
20

Brute Squad - 3

Quicksilver - 0
Brute Squad

Wednesday, 25 May 2011

21

Gallowglass - 3

Hydra - 0
Gallowglass
22
Quicksilver - 0

Stars

- 3

Quicksilver

Thursday, 26 May 2011

23
Card Sharks - 0

Gallowglass - 3

Card Sharks
24
Hydra - 0

Brute Squad

- 3

Hydra

Tuesday, 31 May 2011 - POSTPONED - 6/7 and 6/8

Wednesday, 01 Jun 2011

27

Brute Squad - 3

Card Sharks - 0
Brute Squad
28
Hydra - 0

Stars - 3

Hydra

Thursday, 02 Jun 2011

29

Gallowglass - 3

Brute Squad - 1
Gallowglass
30

Card Sharks - 3

Quicksilver - 1
Card Sharks

Tuesday, 07 Jun 2011

25

Quicksilver - 3

Hydra - 0
Quicksilver
31

Gallowglass

- 3

Quicksilver - 0
Gallowglass
32

Card Sharks - 3

Hydra - 0
Card Sharks

Wednesday, 08 Jun 2011

26

Stars - 3

Gallowglass - 1
Stars
33
Brute Squad - 0

Stars

- 3

Brute Squad
34
Hydra - 0

Gallowglass

- 3

Hydra

Thursday, 09 Jun 2011

35

Stars - 3

Card Sharks - 0
Stars
36
Quicksilver - 0

Brute Squad - 3

Quicksilver

Tuesday, 14 Jun 2011

37

Stars - 3

Quicksilver - 0
Stars
38
Gallowglass - 2

Card Sharks

- 3

Gallowglass

Wednesday, 15 Jun 2011

39

Brute Squad - 3

Hydra - 0
Brute Squad
40
Gallowglass - 1

Stars - 3

Gallowglass

Thursday, 16 Jun 2011

41
Hydra - 0

Quicksilver

- 3

Hydra
42
Card Sharks - 1

Brute Squad - 3

Card Sharks

Tuesday, 21 Jun 2011

43

Brute Squad - 3

Gallowglass - 0
Brute Squad
44

Stars - 3

Hydra - 1
Stars

Wednesday, 22 Jun 2011

45

Quicksilver

- 3

Card Sharks - 1
Quicksilver
46
Stars - 2

Brute Squad

- 3

Stars

Thursday, 23 Jun 2011

47
Hydra - 0

Card Sharks - 3

Hydra
48
Quicksilver - 0

Gallowglass

- 3

Quicksilver

Tuesday, 28 Jun 2011

49

Gallowglass - 3

Hydra - 0
Gallowglass
50

Brute Squad - 3

Quicksilver - 0
Brute Squad

Wednesday, 29 Jun 2011

51
Card Sharks - 0

Stars - 3

Card Sharks
52
Hydra - 0

Brute Squad - 3

Hydra

Thursday, 30 Jun 2011

53
Quicksilver - 0

Stars

- 3

Quicksilver
54
Card Sharks - 2

Gallowglass - 3

Card Sharks

Tuesday, 05 Jul 2011

55

Stars - 3

Gallowglass - 0
Stars
56

Quicksilver -

3

Hydra - 0
Quicksilver

Wednesday, 06 Jul 2011

57

Brute Squad - 3

Card Sharks - 0
Brute Squad
58
Hydra - 0

Stars - 3

Hydra

Thursday, 07 Jul 2011

59

Gallowglass - 3

Brute Squad - 1
Gallowglass
60
Card Sharks - 2

Quicksilver - 3

Card Sharks
#1
Brute Squad - 0
Gallowglass - 3
Brute Squad
#2
Gallowglass - 3
Brute Squad

- 2
Gallowglass
Tuesday, Jul 2011
#1
Stars - 3
Gallowglass

- 0
Stars
Wednesday, 20 Jul 2011
#2
Stars - 3
Gallowglass

- 0
Stars
Thursday, 21 Jul 2011
#3
Gallowglass - 0
Stars
- 3
Gallowglass
---
Teams
(Click a team's flag to go to teams page)
Team Name: Highland Gallowglass

Owner: Teirnan

City: Nordmaar

Colors: Silver/Dark Blue

Team Name: New Thalos Hydra

Owner: Dar'shin

City: Verminasia

Colors: Purple/Gray

Team Name: Arkanian Stars

Owner: Flike

City: Arkane

Colors: Black/Yellow

Team Name: Karecus Card Sharks

Owner: Christeon

City: Verminasia

Colors: Dark Red/Black

Team Name: Althainia Brute Squad

Owner: Grushg

City: Althainia

Colors:Blue/Black


Team Name: Shalonesti Quicksilver

Owner: Ambrosse

City: Shalonesti

Colors: Green/Silver
---
Season 3 Draft
ROUND 1
1 - Quicksilver - Lactan (4/25 9:07am)
2 - Brute Squad - Branzol (4/25 3:09pm)
3 - Gallowglass - Pukje (4/25 8:26pm)
4 - Hydra - Hajo (4/25 8:50pm)
5 - Card Sharks - Nuril (4/26 12:39am)
6 - Stars - Azure (4/26 12:43am)
ROUND 2
7 - Stars - Szy'gash (4/26 12:43am)
8 - Card Sharks - Merilith (4/26 12:47am)
9 - Hydra - Perrinn (4/26 6:32am)
10 - Gallowglass - Akxo (4/26 8:38am)
11 - Brute Squad - Dxutim (4/26 11:51am)
12 - Quicksilver - P'rythian (4/26 11:58am)
ROUND 3
13 - Quicksilver - Gwaine (4/26 11:58am)
14 - Brute Squad - Monbo (4/26 1:26pm)
15 - Gallowglass - Ehlwyn (4/26 1:59pm)
16 - Hydra - Preshnak (4/26 2:57pm)
17 - Card Sharks - Dwid (4/26 9:37pm)
18 - Stars - Betha (4/27 4:05am)
ROUND 4
19 - Stars - Sulindac (4/27n4:05am)
20 - Card Sharks - Brelnon (4/27 4:25am)
21 - Hydra - Kaelowyth (4/27 6:32am)
22 - Gallowglass - Brandon (4/27 6:57am)
23 - Brute Squad - Grumf (4/27 9:59am)
24 - Quicksilver - Slann (4/27 3:59pm)
ROUND 5
25 - Quicksilver - Sjovar (4/27 3:59pm)
26 - Brute Squad - Auorodict (4/27 4:06pm)
27 - Gallowglass - Aidor (4/27 7:37pm)
28 - Hydra - Erthor (4/28 6:37am)
29 - Card Sharks - Gorter (4/28 11:40pm)
ROUND 6
30 - Card Sharks - Eothain(4/28 11:40pm)
31 - Hydra - Zayk (4/29 6:24am)
32 - Gallowglass - Diarago (4/29 8:53am)
33 - Brute Squad - Atokad (4/29 5:01pm)
34 - Quicksilver - Ardias (4/29 5:35pm)
ROUND 7
35 - Quicksilver - Tysterisk (4/29 5:35pm)
36 - Gallowglass - Chantrielle (4/29 9:05pm)
37 - Hydra - Domacius (4/30 4:24pm)
ROUND 8
38 - Quicksilver - Talik
ROUND 9
39 - Quicksilver - Xoric
ROUND 10
40 - Quicksilver - Ambrosse (Owner Option)
Drafted Players:
| | | | | | |
| --- | --- | --- | --- | --- | --- |
| Chantrielle | Human | Priest | Hajo | Human | Charlatan |
| Brandon | Human | Swasbuckler | Azure | Bakali | Assassin |
| Nuril | Ogre | Armsman | Brelnon | Dark Dwarf | Necromancer |
| Ardias | Human | Shadowknight | Erthor | Wild Elf | Druid |
| Kaelowyth | Shalonesti Elf | Priest | Slann | Bakali | Assassin |
| Dwid | Mul | Battlerager | Aidor | Bakali | Assassin |
| Talik | Wild Elf | Bladesinger | Sjovar | Human | Skald |
| Perrinn | Orc | Armsman | Diarago | Human | Swashbuckler |
| Merilith | Wild Elf | Druid | Branzol | Human | Paladin |
| Akxo | Hill Dwarf | Priest | Eothain | Human | Swashbuckler |
| Pukje | Pixie | Necromancer | Betha | Mountain Dwarf | Runesmith |
| Zayk | Human | Swashbuckler | Preshnak | Orc | Assassin |
| Dxutim | Minotaur | Invoker | P'rythian | Pixie | Invoker |
| Gorter | Goblin | Thief | Domacius | Minotaur | Barbarian |
| Xoric | Hill Dwarf | Battlerager | Szy'gash | Orc | Armsman |
| Lactan | Wemic | Dragonslayer | Gwaine | Human | Paladin |
| Atokad | Dark Dwarf | Necromancer | Ehlwyn | Wild Elf | Druid |
| Sulindac | Troll | Barbarian | Tysterisk | Ariel | Druid |
| Auorodict | Ariel | Druid | Grumf | Mountain Dwarf | Priest |
| Monbo | Mul | Warlock | | | |
Undrafted Players - May be picked up until trade deadline.
Ulys - Dark Elf Invoker
Slortor - Minotaur Mage
Brockner - Dark Dwarf Transmuter
Xakhmet - Hobgoblin Transmuter
Taurest - Minotaur Priest
Vorxuq - Ogre Crusader
Lirn - Kender Priest
Samiliat - Human Battlemage
Stefani - Human Shaman
Johian - Wild Elf Armsman
Rhythia - Human Priest
Stugl - Half Ogre Armsman
Vearian - Human Crusader
Gorter - Goblin Thief
Tysterisk -
Players on Discipline list for Season 3
Cheeb (1 season) - Placed by the ACFL League office
Illirya (1 season) - Placed by the Hydra
Dahlia (2 seasons) - Placed by the Brute Squad
Ardias (2 seasons) - Placed by the Quicksilver
Xoric (2 seasons) - Placed by the Quicksilver
---
League changes: As approved by the ACFL Ownership group.
1) The wand rule has been rewritten to allow benedictions or protective spells during combat. This means that using them to ONLY bless or cast protection spells like "Sanct/armor/etc" will be allowed during the match. This rule is meant to prevent cheesy disqualifications for things that did not affect the match outcome.

2) Home Field advantage has been voted in 3-2. This means that the home team will submit a team the same as last year, but be able to see the away teams rosters and then make ONE change to their own roster before the match.

3) The possibility of Quicksilver will be voted on after seeing sign ups on April 20th.
* Commissioner Randorf vetoed a 3-2 vote that would penalize teams their 1st draft pick if that team retained any players from the previous season.
League Rules
All teams are to have one primary owner.

Dragons, Giants, Angels, Demons and the Balanx will not be allowed to enter this league as owners or players. (Dragons alter forms are allowed, but they may NOT revert to dragon form in the arena)

If an owner chooses to play in the league, he or she can only be on their own team.

The sale of any team must first be approved by the majority of the board of owners and then by the league's commissioner.

No one may become an owner if under current contract by another team.

In the event of an owners death, the team may be willed to another person who is not currently on another team or the team will be placed up for public auction. If the death is in the middle of a season, the team will be appointed an acting owner by the commissioner.

League dues are 50 eggs and are due at the beginning of every season or the league will place the team up for auction. These dues are not due in a teams first season in the league.

Game payouts will be 14 eggs per loss and 26 eggs per win. Money to pay the teams players will be taken from this total. Teams that qualify for the post season will get a 100 egg bonus. Championship Teams will collect a reward of 500 eggs.

Owners will receive 10 eggs per win at the end of the regular season.
---
Team Rules
All teams will play a complete 20 game schedule, playing all other teams a total of 4 times.

Manatonics and Vampires may enter the ACFL at their own risk but may NOT use their powers outside of the field of play to assist their teams.

Players will enter the league via a draft. The first year draft order will be determined at random. After the first season, the teams with the lowest records will gain the first draft picks with the past seasons champion getting the last pick of each round. Any new teams will be added to the beginning of the draft order.

Any draft pick will be forfeited till the end of the draft after 24 hours of not choosing. The following rounds time limits will continue to be cut in half for time until a successful pick is made. If a forfeited pick is missed in the last round, the league has the right to find new ownership.

Rosters are set and all trades must be made through the league office. The board of owners can veto any trade with a majority vote. The Commissioner also reserves the right to veto a trade.

The trade deadline will end after the 30th game.

You may not pick up undrafted players after the 30th game.

Combatants are on their drafted team until released or traded. Released combatants will be forced to miss the rest of the season and the following season UNLESS ownerships cuts them for lack of desired skill. Those who are cut for any other issues such as not showing up or suspicious behavior will be forced to miss the next season and may only re-enter the league via the public draft.

All competitors WILL be compensated by the teams ownership through the league office to the amount of 2 egg per loss and 3 eggs per win, per team member who PLAY. Members who show up and do not play get 1 egg no matter who wins.

All teams will be compensated by the league office on a match by match basis. Winning teams will make the majority of money.

The top 3 teams will compete in the playoffs with the 2nd and 3rd team playing each other to see who gets to play the #1 seed fin the championship game.

All teams will have rosters up to 10 combatants but may only field 4 members of separate classes for any given match.
---
Game Rules
A team may only field 4 players per team with no substitutions for any reason after the match has begun.

A team may not enter more than one type of player class per team. (only 1 warrior, 1 cleric, etc.)

A Match is over after a team captures its 3rd flag. The match will be scored by how many flags the teams have captured.

No spells or skills or any type of help other than verbal commands will be allowed from outside of the fielded team.

You may not summon anything into the preparation rooms. You may not heel in mounts from outside the field of play.

You may not be grouped with any one outside of your fielded team.

All gear will be returned to owner after the match. A player may not steal or keep any other players equipment gained from the arena.

Any team who prolongs a match in order to boost stats (such as gaining more kills) will be disqualified.

All owners, players and spectators will remain in character during these matches.

League will fine 5 eggs to player fine for dragging out matches.

The following spells, gourds or potions are illegal to use during match play:

Tornado

Gate

Teleport

Frog gourds

Any healing potions, wands, scrolls, staves or pills. Only wands that grant ONLY benedictions or protective spells will be allowed during combat.

Any pills that inflict damage or maledictions on an opponent.

Quest Potions (Resistant Weapon/Magic Potions)
---
Trades and Releases Season 3
Free Agent Pickup - Ardath - Minotaur Invoker (Quicksilver - 5/05/2011)
Released - Tysterisk (Quicksilver)
Released - Gorter (Card Sharks)
Free Agent Pickup - Leotie - Ariel Druid (Card Sharks 5/06/2011)
Released - Ardias (Quicksilver)
Free Agent Pickup - Dunnikin - Goblin Priest (Quicksilver 05/19/2011)
Released - Xoric (Quickslivler)
Free Agent Pickup - Drondon - Half Elf Bladesinger (Quicksilver 06/01/2011)

Disciplinary List
Ardias - Quicksilver
Xoric - Quicksilver


Dark & Shattered Lands (DSL)
Copyright ©1996 - 2020.
All rights reserved.